Proudly serving Cape Coral for over 20 years
Entech is your trusted local wireless network site survey company in the Cape Coral, FL area. With our wireless network site survey and heat mapping services, your team and customers will enjoy stable and reliable network performance, that enhances productivity and makes work more seamless and swift. Contact us today to speak to a wireless network site survey and heat mapping services expert.
Wireless Network Site Survey & Heat Mapping Services
Did you know a reliable and fast wireless network makes people more productive? Yes, that's a fact. A stable wireless network makes everything run more seamlessly and swiftly. However, when you have a poorly planned wireless network, expect chaos. Why? You'll find that you've dead zones with no signals and perhaps few access points. That's why you need a wireless network survey and heat mapping expert to fix this problem.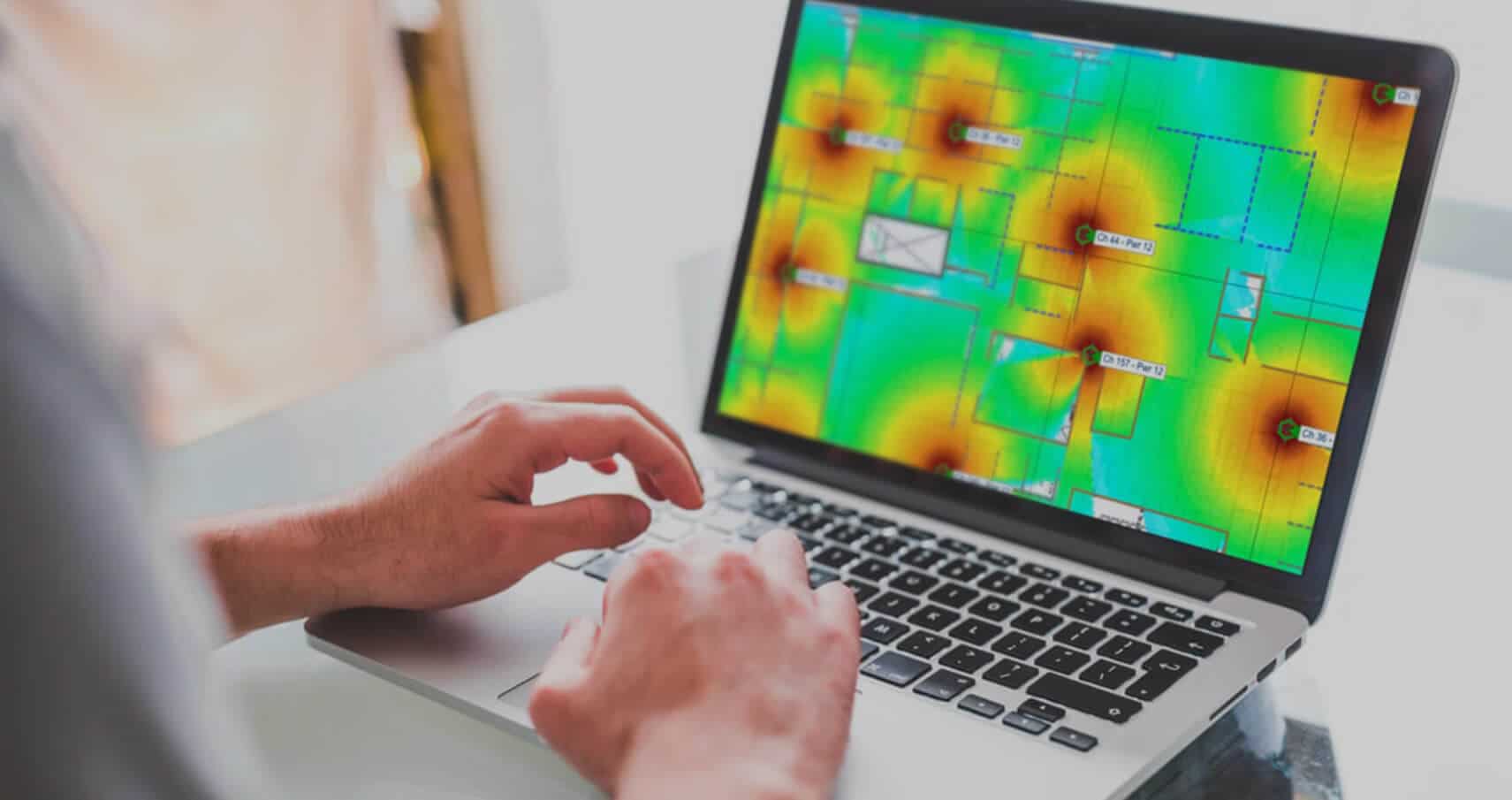 If you're struggling with your wireless network, we can help. Our team of experts will identify dead zones and make adjustments to your network designs appropriately. The process will help you get reliable and consistent Wi-Fi coverage throughout your organization.
Why Do You Need A Wireless Site Survey?
A wireless site survey ensures that each access point is tested and all Wi-Fi connections are working correctly. It's like an audit for the network. With our experienced engineers, we ensure that all areas are covered correctly. The process includes checking that no network is overlapping with the other and ensuring that Wi-Fi access points (AP's) are well-spaced and have excellent performance.
It's a misconception that placing the AP's randomly doesn't have an effect, but it does. For small deployments, the impact may not be detectable. But a site survey is a must for medium and high usage of wireless networks. A wireless network site survey helps to avoid confusion. Imagine installing extra Wi-Fi in a place where it is not necessarily needed. The move will not only be a wasted investment, but in a real sense, nothing will be solved, and complaints on poor coverage will still arise. The wireless network survey is vital in the following ways:
Eliminate dead zones by marking where the signal is weak.

Solve speed issues by tracing where the network is overcrowded.

Automate wireless networks for better coverage.

Access to actual problems helps to formulate logical solutions.
A site survey is crucial in identifying where problems exist. Whether it's network interference or overlap, the survey helps a network manager to articulate the issues when approaching the "bad Wi-Fi" complaints.
Also, as surveyors, we can evaluate your bandwidth to help it handle the traffic. Both incoming and outgoing traffic; the process helps to identify weak points in the network coverage and existing security problems.
Why is a Heat Map Necessary?
We always recommend a detailed heat map for your wireless network, because the intervention helps you analyze your wireless network. With a professional heat map, you're able to identify where the grid requires an upgrade. When you have poor Wi-Fi signals, it can even be a simple issue of physical objects interfering with the network. These physical objects include walls, furniture, and ceilings. It can also be a case of neighboring networks or devices emitting frequencies on a similar wavelength.
The possibilities for wireless network interference are endless. That's why we recommend a heat map from where the signal is robust to the weakest area. This will benefit your network in the following ways:
The practice improves efficiency in your organization, and it's cheaper than hiring an internal administrator who will be checking the problem from time to time.

The process helps to eliminate internet disruptions that may slow your daily business operations–––it provides optimal and balanced connectivity in the premises.

Heat mapping analyzes transmitted signals to give a complete visual image of the signal coverage––the technology helps to monitor connectivity to eliminate network fluctuation.

Maximizes network coverage to serve all people appropriately––eliminates overcrowding of AP's.

Increases capacity and speed, which is essential in boosting effectiveness for the business.

This leads to better and improved network designs that are trustworthy––it gives a better experience when using shared wireless networks.

Budget-friendly when compared to the productivity that a heat map can help to increase–– it will help your organization to complete tasks on time and avoid inconveniences.
We'll Get It Done, and Get It Done Right
Network site surveys and heat mapping are only effective with the right data. This is why it's essential to work with wireless network site survey company that has the appropriate expertise and experience.

At Entech, you can be sure to get high-quality wireless network site survey services. Our experts are not just qualified and experienced, but they are also a delight to work with. So, contact us today to upgrade your wireless network.