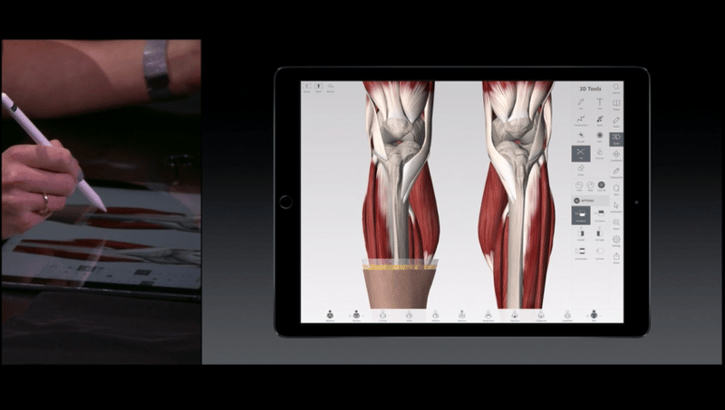 When it comes to new technology announcements from Apple, it's always a rush to be the first to get it. The iPad Pro seems pretty revolutionary. The pure beauty alone is enough to make any business owner run out and buy it for home – but what happens if you want to start using it within your business? If you watched the Apple Event yesterday, you probably saw the new 3D4 App, which allows medical providers to use the latest in anatomically correct 3D imaging to give patients an inside view of their body. It's an unprecedented technological partnership from a patient education perspective – and you're probably eager to get one into your practice as soon as possible. But have you given any thought to how this will work with your existing workflows? Sure, being able to carve out muscle and reveal bones or ligaments is great. But how can you add these documents to patient records or share them with your patients? Clearly there's some integration that needs to be considered. Here are three technologies that medical practices need to fully integrate the iPad Pro.
Integrated e-mail.
When you're consulting with your patients, they're absorbing a lot of information in a short period of time. Introducing a new piece of technology within a consultation can be overwhelming for your patient. That's why you need to make sure that if you're going to purchase the iPad Pro and work with the 3D4 app that you have integrated e-mail to automatically pull up patient e-mail information and shoot that data right over to your patient. Manually entering e-mails can be cumbersome and since your time is at a premium, making sure that you already have access to patient e-mails is going to be very important to keep your practice running smoothly if you purchase this technology.
App-based EMR
If you've been considering a cloud move and want to embrace this type of technology, now is a great time to make the switch. When you purchase such expensive technology, you want to make sure you maximize it. App-enabled EMR will ensure that you and your staff will be able to use the iPad to access patient records, update documents and have all the information about patients in a central location. This way you've completely mobilized your records and don't have to spend any time logging into the workstation in each exam room, since your access is right in your hands. This is a huge benefit from a HIPAA and security perspective as well, since you don't have to worry about forgetting to log out and leaving sensitive information on the screen.
Integrated scheduling.
Having the ability to view your schedule and even put in patient appointments that are important to you is valuable. If there is a crucial patient follow-up that you want to make sure you're available for or you are a small practice and handle your own scheduling – having that available is invaluable.
New technology is a great thing. But maximizing that technology in a way that makes sense for your business and industry is even better. Don't invest in expensive new technologies without looking into what it can do for your workflows. As well as they're marketed, introducing new technology without a plan in place can actually be detrimental to your productivity and mean the technology is underutilized. Speak with a strategic technology consultant to determine what the best course of action is before you decide to purchase the iPad Pro.