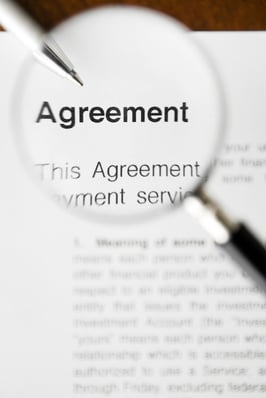 As with anything in business, you don't begin a service or start using a product unless you fully understand the company's terms. For example, when you sign your commercial lease, you likely read and make an attempt to understand the terms of rent payment, late fees, tenant improvements and more. The terms of a cloud migration are no different and even more important, as they involve the your company data.
Before you choose which vendor you want to work with for cloud services, you want to make sure that you understand exactly what you're getting under which terms. In order to help you, we've identified a list of items that should be included in your cloud services level agreement (SLA).
A statement clarifying data ownership.
One of the most important things to understand when you do a cloud migration is that you still own all of your data. No one can hold it hostage and must affirm your business' ownership of that data and how you'll get it back should you wish to terminate the agreement.
A peek into the infrastructure you're adopting.
Just like your IT department or Managed Services Provider outlined the infrastructure of your internal server, you'll also want a full picture of how the infrastructure of your new cloud provider is laid out. It should also clearly outline security measures and standards that the provider will maintain and tell you what your rights are for auditing those standards.
It must lay out all the important criteria.
In order to ensure full protection, you need to make sure that there is clear documentation as to how you'll access data, migrate data or resolve any issues that come up. Here are some things that you'll want to make sure are included in this documentation:
Uptime guarantee.
Anticipated response time.
Outline of security and encryption
Specific data location
Support options
Mediation process for disputes
Exit strategy
Disaster recovery
This is by no means a comprehensive list of items to be included in an SLA. It's important to read your providers SLA carefully and address any issues that you have. Have a separate party that is technically savvy go over the details. Your SLA is a contract and should be treated as such. You assume a certain amount of risk by placing your data in the hands of a provider and while the cloud is secure enough for any business, it's important to carefully audit the provider that you choose.