What is business agility?
The definition of agility is the ability to move quickly and easily in any situation. Whether it's due to a hurricane or a pandemic, or even if an employee getting sick and needing to work from home, you should be able to adapt and have no interruptions to productivity. We've created a framework for you to understand ways that you can become more agile in your business.
Background
As a technology company, we are extremely passionate about having an agile workforce because technology is a huge part of the consultative process as well as the overall business strategy. We ask ourselves questions like "How do we invest in those strategies to collaborate to work efficiently and from anywhere?"
We have a lot of experience under our belts regarding this topic. We've even had discussions with clients who know that they need a strategy in place but don't know where to start. One of the most common things to adopt in the beginning of this process is to move from a paper-based office to a digital office.
Implementing this will give you the most return for your money because it keeps your team active and engaged in their daily tasks.
Focus areas
Here are some of the things you should keep in mind when looking to implement a business agility strategy: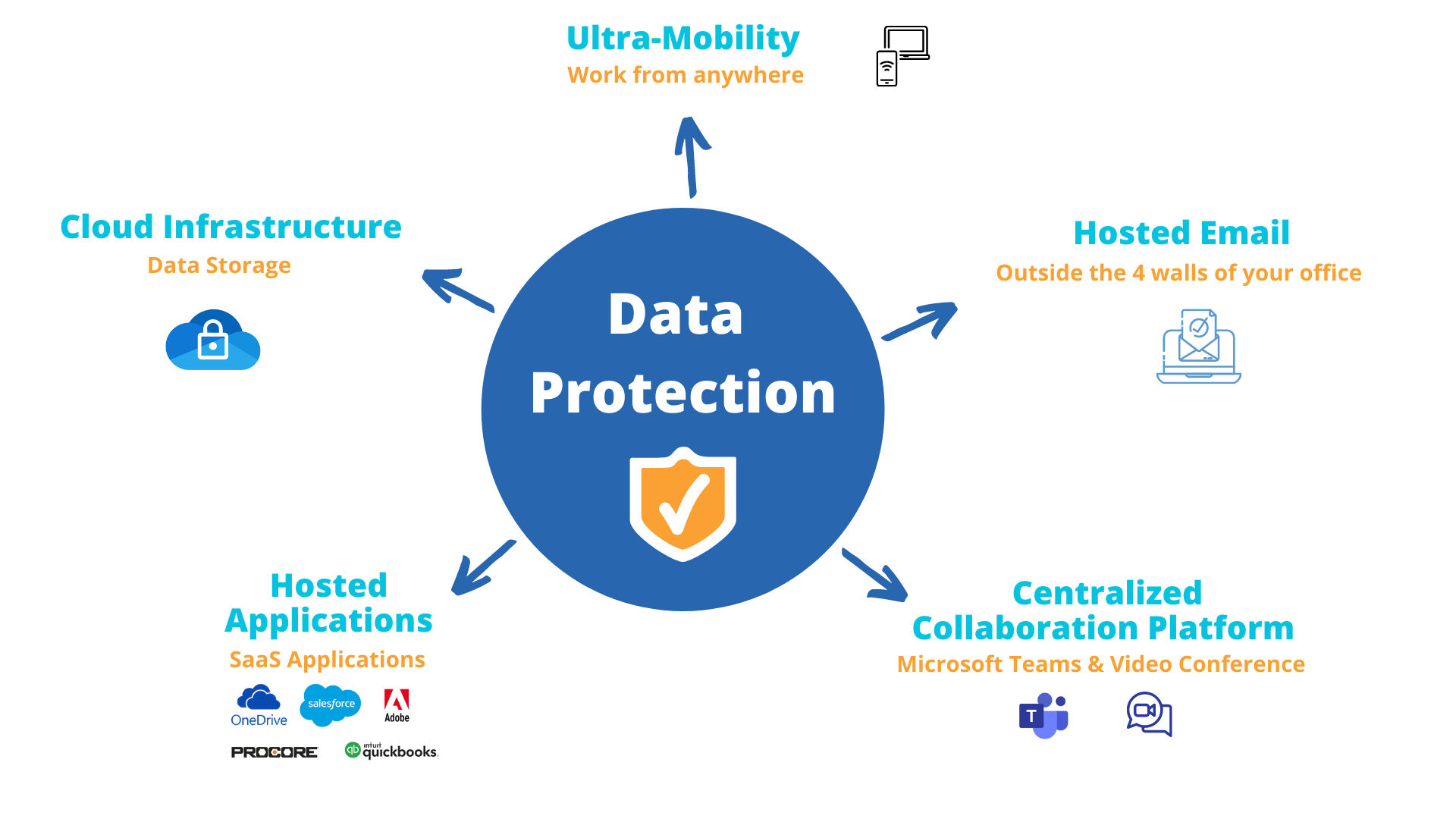 Ultra-Mobility
Laptops, and even phones, have hosted applications like Microsoft Outlook that allow you to work from anywhere. If needed, you can even open files on your phone with the proper tools in place. This concept means that at a moment's notice, you'll have everything you need at your fingertips. You'll be able to access your email, important files, and other revenue generating programs to get the job done.
We recommend that you start to think about replacing desktops with laptops to be more agile, both in and out of your office. Ultimately, we don't want you to be glued to the 4 walls of your office. We want you to be able to work from anywhere and access all the applications you need.
Think of it this way – Your office is a place you go to work, but it's not the only place that you can work if you are truly agile.
Hosted email, applications, and Cloud infrastructure
You may have your data stored on a server in the office or on someone's workstation, but you should offload your email and important files to a cloud-based system.
Being able to access that data securely and work from anywhere and not being tied to the 4 walls of your office is part of your overall digital transformation.
Centralized Collaboration Platform(s)
Having a centralized communication platform allows our team to continue to communicate and collaborate with one another throughout the pandemic through applications like Microsoft Teams.
Staying in contact with our team has helped us build expectations on remote work, as well as collaborate with one another to stay up to date on all changes. Being able to stay connected to our people in the organization and community is a big part of who we are, and it's critical that we stay continue to stay this way throughout challenging times.
Pre-pandemic, we were working in the office just like everyone else. We were so used to walking over to someone else's desk to have a conversation or ask a question, and now we don't have that luxury. It is so important to keep that communication in tact to be able to stay on the same page with your team in today's world.
Data Protection
Data protection is at the center of all of the above strategies that we covered. It is the key to keeping your sensitive information safe in the state of an emergency without having to worry about losing it. Managed cybersecurity involves making sure that your data is protected is an important piece of being agile.
Shadow IT is comprised of IT-related activities or purchases that aren't covered by your MSP or IT department.
For example, let's say an employee uses Google Docs to host sensitive information, but that is not covered under your server or cloud based system. This could now leave you vulnerable to threats, as well as the possibility of leaking company data. Putting data on an external hard-drive and taking it home is also putting your company at risk because anyone can have access to that information if they were to get their hands on it.
Things to consider
The more places that you have data stored in, the bigger of a target you are because you are more vulnerable to attacks on many different applications. At Entech, we focus on shrinking our target by limiting the amount of applications that you operate with.
Our tip to you – Limit yourself to only the tools and applications that you need. This will help you to succeed and truly become an agile workforce.
---