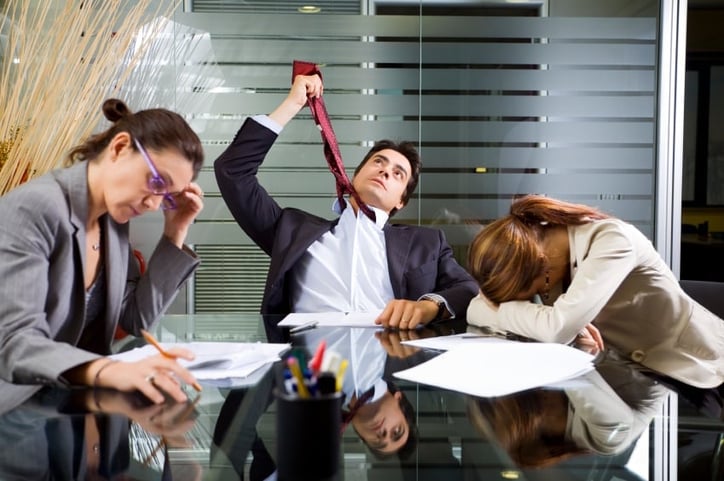 As a business owner or manager, it's your job to make sure that you keep your organization running efficiently with productive employees that meet goals. The pressure involved in keeping up efficiency and productivity is significant, though. You've taken steps that you believe are improving company processes, but you're not sure which technologies are actually helping your employees and company culture and which are actually making things worse. Here's a harsh reality: 42% of employees in the United States are unhappy with their provided technology. If you're having a rough time balancing technology and employee happiness, here are a few ways to tell if your technology is ruining your company culture:
Your internet connection is too slow.
Internet is what allows your company to connect, interact and do business. Your employees come into work ready to be productive and get a significant amount of their workload for the day completed. This is important to their general level of satisfaction and well-being. When your internet inhibits their productivity, it significantly decreases their level of satisfaction and engagement with your organization in addition to increasing their stress levels. Don't believe me? According to our infographc linked above, 63% of employees in the US are not engaged in their work. This disengagement loses American companies somewhere between $450-$550 billion per year.
Your software applications don't speak to one-another.
Your applications are made to make your employee's lives easier. Access to more information should help them to better service your customers. But the reality is that each piece of technology that you bring into the fold has a learning curve. More often than not, these applications don't speak to one another and result in employee frustration due to decreased productivity as a result of increased data entry. Data entry is among the top complaints when it comes to sales people and CRM, with more than 20% of sales professionals citing it as their biggest challenge, according to HubSpot's 2014-2015 State of Inbound: Sales report. The same report states that, "Data entry time negatively correlates user satisfaction. Practitioners and executives alike prefer time spent selling to time spent on manual tasks[…]"
You're micromanaging employee time with technology.
Time tracking and project management tools are fantastic for executives to determine where productivity is lost and whether or not projects are actually quoted properly and remaining within scope. When these tools are used for good, they're very beneficial for organizations. But so frequently managers and executives use these tools to micromanage their employees' time.
According to an Inc.com article, "Making it your priority to check in on each of your employee's schedules is a mistake. One of the biggest mistakes a business owner can get caught up in is tracking people's time – making sure they're showing up on time, doing what they're supposed to, not taking extra-long lunches, not leaving early, etc." Rather than using your tracking software to micromanage your employees, take an overall view of time on projects and challenge your employees to meet an overall goal or be more productive with their overall time use. "My experience has shown me when you give people the trust and the flexibility to get the job done they will usually end up putting even more hours in than they ever would have thought to do if you were micromanaging them."
Your employees are too plugged in.
Perhaps one of the most frustrating aspects of such micromanagement with regard to employee time is the fact that many employees are so plugged in that they're taking work e-mails, client calls and working on their lunch, in the evening and on the weekends – all of which often goes undocumented and unappreciated by higher-ups. This leads to more and more frustration and disengagement. The Center for Creative Leadership (CCL) surveyed 500 executives, managers and professionals. Each one that carried a smartphone for work logged 13.5 hours "on the job" every day and an additional 5 hours on the weekend. Use your technology as an opportunity to set boundaries with your employees or even to release the reigns a bit on their vacation or time-off requests. Set a BYOD use policy, after-hours e-mail policy, or just plain stop micromanaging employee hours.
Technology was made to improve the lives of your employees and boost the bottom line of your organization. It should be used for good, but not to manipulate and overwork your employees. When you're adding in too many pieces of software, not investing in the right internet and micromanaging already overworked employees with your technology, it breeds anger, disengagement and stress; all of which have been shown to hamper productivity and company efficiency. As you formulate your growth plans, account for how you'll use technology for good to improve the user experience and help them deliver more efficiently on your behalf. You won't be sorry.