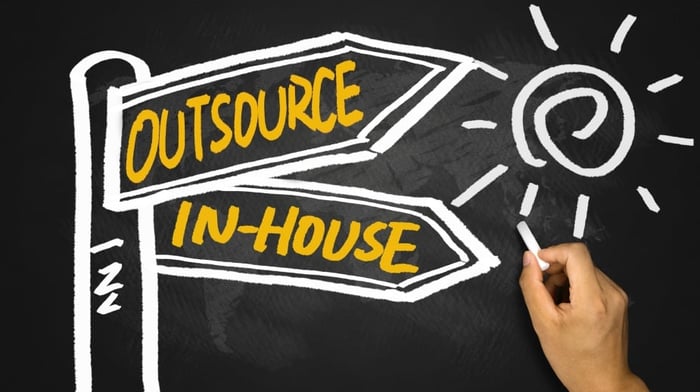 As a Managed Services Provider, we always try to keep our services evolving to cater to new and different customers. We always attempt to work with existing in-house staff, but have also had our fair share of challenges with in-house staff in certain situations. Inherently, the gap between our team and theirs both from a skills and process perspective is very hard to bridge effectively. Going forward, for customers that require an in-house technician in addition to Managed Services, we will offer up the option of an outsourced in-house technician. What is this exactly? This is a technician that is recruited, interviewed, hired and trained by us, sits on our payroll load, but works full time for your organization. They report to your location every day and work in conjunction with our team and systems. They report to our Service Director and we have full control over their position. This works out best for everyone involved for a few reasons…
Decreased overhead for the client.
Recruiting, hiring, training and offering benefits for an in-house technician can be extremely costly. You have to pay for their insurance, their vacation, 401k, and to send them to regular training. This is extremely costly for your organization. However, when you outsource your in-house technician from a Managed Services Provider, you're able to benefit from paying out that salary in your Managed Services contract, which means all the additional overhead is that is typically involved with hiring a new employee is eliminated.
It fosters a team mentality.
One of the biggest issues that we have had as a Managed Services Provider with clients that have in-house stuff is finger pointing. Sometimes, rather than working as a team, an in-house technician will lay blame on the organization, or allow some of their workload to fall short of the Managed Services Provider's expectations. While we can always make recommendations as to how they can improve, ultimately the demand for improvement is just a suggestion, since the MSP is not actually the one employing the technician. When you outsource an in-house technician, the MSP has full control over their day to day and how they should improve to better work within the management systems available to them.
It scales easily.
As you grow, if you're recruiting and training your own staff for in-house IT support or management, you ultimately have to hire more and more technicians. If you outsource your technicians or IT Support, you can easily scale to use as many of a Managed Services Provider's internal resources that you need while they attempt to recruit an additional in-house resource for your organization. This covers the gap that someone might have if they're a rapidly expanding organization, allowing full IT coverage no matter what with a small increase in the monthly management fee.
Hired by experts, fired by experts.
Ultimately you're not in the technology business, so it's hard to tell an in-house technician that they're not doing their job properly, because there's little to compare them to. How do you know what can improve if you're not used to receiving top quality support and services? An MSP can easily set the bar, establish expectations and review based on standards that they have within their organization which align with industry guidelines of performance and training.
If you need the reassurance of having an onsite resource at your disposal for setting up new workstations or troubleshooting issues directly for users, an outsourced in-house technician is the perfect sort of "hybrid" solution for you. Allowing your MSP to recruit, interview, hire and fire your technician allows to decrease your overhead costs, allows for better collaboration, scalability and reassurance of expertise. This can bring true accountability and close the gap on what you need and how your MSP delivers your technology services.