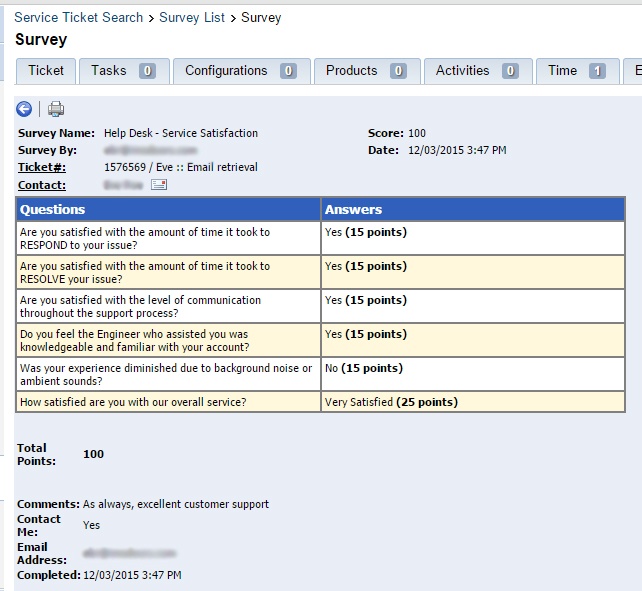 When it comes to IT support, you need expert technicians that are going to be responsive, knowledgeable and resolve your issues quickly. But when you're interviewing IT companies in Bradenton, Fort Myers or Southwest Florida, they all tell you the same thing. So you sign up with them. You feel like you're getting pretty good support, but sometimes issues take a little long to fix and you're really not a fan of most of the technicians that service the help desk. You might be wondering: How do I know whether or not these guys are the top of the line when it comes to IT support? Here are 5 questions to ask about your IT support experience to help you figure it out:
Are you satisfied with the amount of time that it took to RESPOND to your issue?
The majority of the time, your IT service provider should be responsive and quick to pick up the phone or respond via e-mail when you submit a ticket. There should not only be a systematic approach to the resolution of your ticket, but you should feel as though you're not being pushed off. While every ticket that comes into a Help Desk is assigned certain priority, response times should never be more than an hour and a top tier Help Desk should respond to your request within 15 minutes. If your Help Desk is taking much longer to respond to your ticket, this is a red flag of a poorly managed Help Desk and low quality IT support.
Are you satisfied with the amount of time it took to RESOLVE your issue?
Once a technician is on the case, most minor IT support issues should be resolved within a few hours, with some major issues that are reliant on other services or programs taking a little bit longer. You should never have to wait days or (worse) weeks to resolve an issue that is inhibiting your ability to be productive. Tickets that go on for a long time can be an indicator that the IT provider is too busy to support you properly or that the talent is insufficient to resolve your issue promptly.
Are you satisfied with the level of communication throughout the support process?
On the rare occasion that an issue does take longer than anticipated (and even when it doesn't) you should always be kept in the loop and understand what is happening on the back end to resolve your issue. Sometimes that's as simple as a follow-up e-mail to let you know that the issue has been resolved, sometimes that's a phone call to further troubleshoot and communicate why the ticket is delayed. Keeping in touch throughout the process is crucial to your peace of mind and helps to ease any frustration that might be mounting.
Do you feel the Engineer who assisted you was knowledgeable and familiar with your account?
Perhaps one of the most frustrating things for any employee to have to deal with is to be pushed through to multiple technicians who aren't familiar with their workstation, line of business application or network configuration. A quality IT support team will have comprehensive documentation about your network, workstations, configuration and most (if not all) pieces of software that are used internally. This is a great help when it comes to troubleshooting and reduces resolution time significantly. If you find that your technician is unfamiliar with your setup and this happens fairly frequently, it's a sign that your provider isn't sufficiently documenting things.
How satisfied were your with your overall experience?


Every provider has hiccups when it comes to issue resolution, but at the end of the process you should always be 100% comfortable and happy with the experience that you had. If you felt uncomfortable with any of the above, you're going to be left with a bad taste in your mouth. If this is happening fairly often in your encounters with your Help Desk (whether internal or outsourced), you need to make that heard to the company or people that are in charge of your Help Desk. This can allow them to improve the quality of the service they're providing you and will give you an indication of whether or not they're taking your feedback seriously.
IT Support is one of the most crucial aspects of any technology strategy. Quality support means more productivity for you and your employees. More productivity means happier employees, happy bosses and happy executives. If you're struggling with unresponsive, lackluster or poor quality IT support, it's time to make a change.