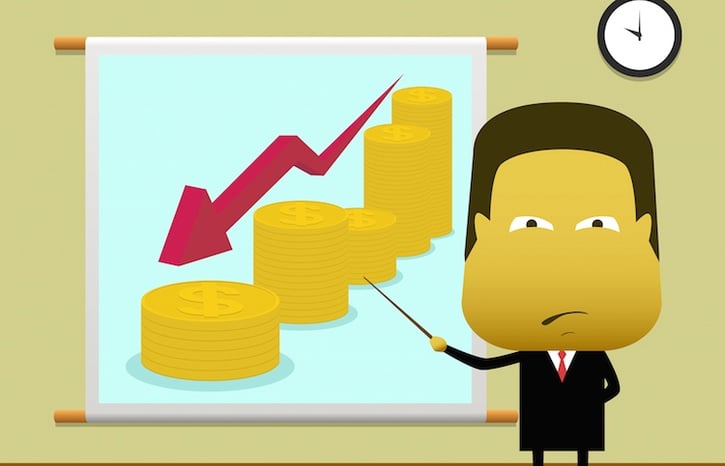 When it comes to sales and revenue for your club, General Managers and CFOs just think in expenditures and revenue. They may consider saving money by cutting budget, but for the most part – the goal is to increase revenue (bring in new members) so that expenditures don't impact the club as much. It's a continual balancing act. But what happens when a really expensive potential expenditure could save your golf club money? The formula becomes a little more complicated. When it comes to IT Managed Services, many golf and country clubs balk at spending thousands of dollars a month they wouldn't have previously spent on managing technology. Their view? If it ain't broke, why fix it? But so often we run into clubs that don't quite understand where their technology is failing them. If you could play out a few different scenarios in your head – you may start to see things a little differently.
Lower dining room sales.
Your sales in the dining room rely heavily on the efficiency of your staff. The fact is that without them pushing appetizers, specialty drinks and upsell items, you can't maximize your dining revenue. This type of upselling requires their continual presence. They need to be there when drinks are empty, to remind your members to save room for dessert to recommend an amazing new chef special. When your servers and bartenders are more focused on managing your faulty technology, waiting for orders to submit, cards to process or tickets to print – they're not focused on your members. What does this mean?
Missed round of extra drinks – $40.00
Missed dessert opportunity – $25.00
Taking too long to greet a table and missing the opportunity to upsell or sell an appetizer: $20
Apply this to all three servers for three of their tables. That's $765 lost jut during a single service. Now multiply that times both lunch and dinner on Sundays for the entire year. That's almost $80,000 in lost revenue. Do see how important the efficiency of your servers and bartenders is and why their technology should be up to par?
Inefficient administrative staff.
Your payroll expenses are pretty significant. From your controller to your receptionist and marketing manager – you need to make sure they're as efficient as possible. Every moment they spend waiting for your line of business application to load, for a payment to process or for their workstation to un-freeze you're losing money. Consider this calculation: if your average salary is $45,000/year, that means that your employees make $.36 a minute. A minute or two every hour doesn't seem like much, but over time it can add up to over $2,000 in wasted time per employee per year. Here's a detailed breakdown we did in our blog on slow workstations.
Reputation and lost members.
While this is a little bit more difficult to quantify, you can definitely see the long term impact of slow technology. Over time, your members and dining guests will get sick of the lack of innovation. They'll wonder why you can't take their payments online or why they have to call the pro shop to book their tee times. They'll start to get upset as they wait for their drinks or for your system to process their credit cards in the dining room. They'll wonder why, every time they call about their account, they have to wait for a few minutes while your administrative staff waits for their station to load their information. Over time another golf and country club with innovative new technology that their friends are members of may take a few of your members.
You may not be able to see these things right now, because you're not looking for them. But the next time that you go into your dining room or quiz your employees on how they feel about your technology – you might start to notice it. Losing your members to your competition may not happen right away, it might happen slowly, but your slow technology is going to tarnish your reputation and it could make or break the success of your club. What do you think? Isn't it time that you did something?