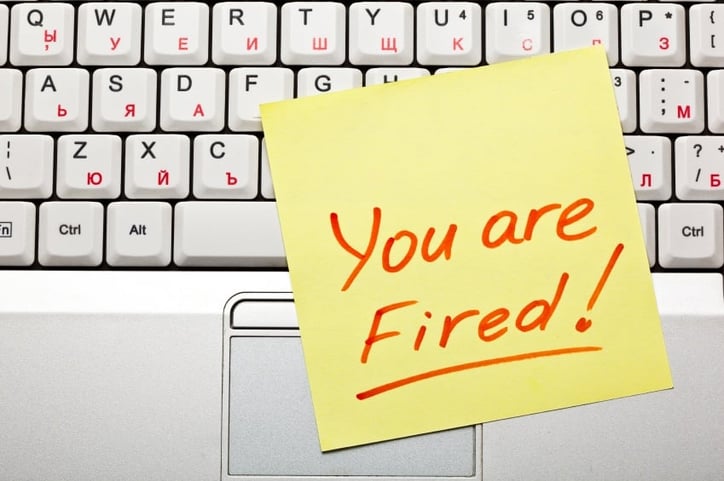 It's hard to put one aspect of IT over the other, since they work together so closely, but beyond backup and recovery services, IT support is probably the most important element of your technology. Why? Issues with your technology can not only seriously impact productivity, but bring your production or operations to a standstill. Awhile ago we published an IT support infographic that outlined the importance of quality IT support. It had some pretty important statistics in it. Among them: 80% of computer issues occur because of ignored IT maintenance and remote tech support providers can typically reduce network downtime by 90% or more. These statistics are important to note, because when you have poor quality IT support, you may not realize what you're missing. Want to increase the quality of your IT support? Here are 5 signs that it's time to fire your in-house IT support staff:
Response times are longer than 30 minutes.
An IT helpdesk needs to have prompt response times to decrease user frustration and avoid operations disruption due to small issues. A really great IT support staff will have less than 30 minute response time, with top tier IT support offering as little as 15 minute response time. If you're waiting for hours (or worse, DAYS) for your helpdesk to respond to technology issues, it's time to clean house and find a provider than can offer you responsive support.
Resolution times longer than 2 hours.
Barring the rare exception for factors outside of their control, your help desk should be able to respond to issues quickly and resolve those issues quickly. In that same support infographic that I already mentioned, the following two qualities to have in an IT support provider were ranked most important by respondents: Expertise (82%) and Responsiveness (70%). When you work with a very experienced provider that employs technicians that are well-versed in your line of business application, your network, your business processes and issues that most companies experience, you're much more likely to have your issues resolved quickly. When you operate with in-house support staff they usually don't have the volume or breadth of experience that an outsourced provider will.
Their limited expertise requires outside support resources.
When a technician has limited expertise on a line of business application or doesn't know your network intimately enough, they will almost always require outside vendor support. That means that they'll spend time calling your accounting software provider, business application provider, phone provider, or internet provider. Relying on their support staff to help them troubleshoot the issues rather than knowing the signs and symptoms that can help him or her to narrow down the problem can cause resolution times to increase.
They're often unavailable.
Overworked in-house support staff has every excuse in the book. They'll take additional vacation days, take far too long for your on-site requests and new user setup, or even completely drop the ball on open support tickets. This can be frustrating not only for users and business owners, but it can lead to disengagement among both your employees and your support staff. If your in-house support staff is unavailable more often than not, or giving you excuses along the way for why things cannot get done – it might be time to change things up.
You are paying them more than $25/user/month for the users they can support in person.
You should always be able to rationalize the cost of your IT support. Most Managed Services providers charge between $25 and $50/user/month for onsite support services, which often come with management tools, ticketing systems and network monitoring. Make sure that your helpdesk resource is not being overpaid for the number of tickets and issues that he or she is resolving on a monthly basis. You need to balance the quality and responsiveness of your support with cost. If you're overpaying for the number of users that you employ, you may want to consider other options.
When an employee isn't producing or is performing underneath the bar that is set for their position and industry, it's time to make a change. Just because you may not have a good understanding for exactly what it is they do doesn't mean that you should be sacrificing the quality of your IT Support. If any of the above issues are going on, you need to take the appropriate action to provide additional training, hire a different resource or even outsource your IT support. One thing is certain – you can't afford poor quality IT support. If you're not happy – change something.