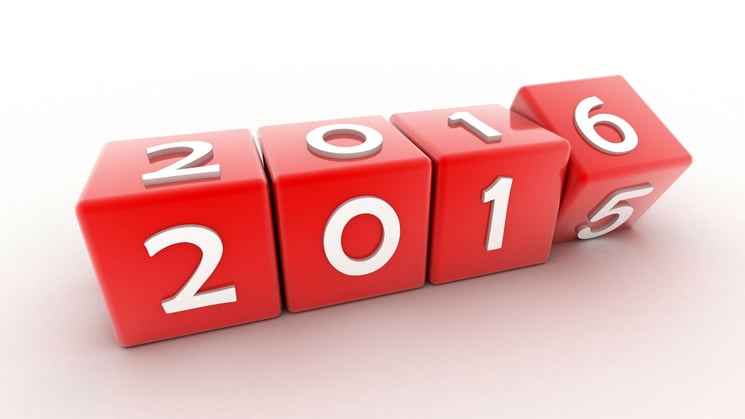 As an IT Managed Services provider, we have to keep ourselves up to speed on the latest innovations when it comes to your business technology. But more than that, we have to use the innovations we're seeing now to predict what we think is in store for our industry. This allows us to remain thought leaders and introduce new ideas to our clients that will help them stay ahead of their competition from a technology perspective. We've written a lot of different trends blogs and while technology trends can apply across industries, we think that 2016 is going to be a huge year for small businesses. Here are our 6 SMB technology trend predictions for 2016:
Strategic, comprehensive technology investment
Since the economy shifted in 2008, everyone has been gradually rebounding. Many of our clients have been very cautious about new investments, particularly when it comes to technology. But in 2016 all that is going to change. We've seen strong economic growth and know that next year is going to be the year that more small and medium-sized businesses invest in a more comprehensive technology strategy. We're not talking about businesses embracing Managed Services. We already know that that trend is being realized. What we're talking about is more leverage of the Strategy Manager (we actually have one on staff) to plan out growth strategies, streamline business operations and integrate technology to help the business operate more efficiently.
Line of business application upgrades for better management
Companies are looking to replace their aging line of business application, but not every company can afford a customized solution. In 2016 we'll see smaller businesses move away from their old line of business application and assess some options that help them improve existing document and file management.
Increased Integrations for SMB line of business applications
One of the main complaints about boxed line of business applications is the lack of integration and duplicate data entry. However, this is the only option for many business owners due to budget constraints, since customized applications can be tens of thousands (and even up to hundreds of thousands) to develop. Integrations with come in the form of big name providers working together, but also in the form of custom development commissioned by small businesses. When software applications speak to one another it saves time – and increased efficiency is a huge focus for businesses in 2016.
Increased IT security investment
75% of businesses surveyed plan on investing in improved security for their IT systems in 2016. What type of investments will organizations be making? There's going to be a lot of different areas where companies can improve security – and it's going to start with the network and trickle all the way down to the employee. Here are just a few predictions we have in this area:
Improved user experience and culture from technology.
Boosting morale and making employees happy can be as simple as improving the state of their technology. The fact is that efficient employees are increasingly frustrated by slow workstations, bad internet connections and companies that don't embrace mobility and provide flexible options for integrating personal technology. Rather than continually limiting your employee's technology, 2016 is the time to improve the user experience by making improvements to internal technology. You can do start by having employees take a user satisfaction survey and determine where your weak points lie before you make changes like BYOD policies, increased mobility (like a cloud migration), and remote office options. All of these are great ways to get started in helping your users do their job better and keep them happy with the state of your technology.
Focus on customer experience.
Customers are expensive to acquire and difficult to keep. This is why the top trend that we're seeing for 2016 is a renewed focus on customer experience. While improving your user experience and infrastructure goes a long way towards improving your customer experience, don't forget that things like client portals, mobile applications, and access to their records are valuable assets to your organization that will keep your customers happy. Customer service and integrated technology will set your organization apart from your competition in 2016 – so this investment and trend is particularly important.
2016 is going to be an exciting year for SMBs. While they have had to keep budgets in check for awhile – the reigns are loosening and we're excited to see what's on the horizon for many of our clients. While not all SMBs can afford to invest budget into all these areas, a strategy manager will help them to weigh the benefit and make the decisions and schedule that is best for their organizations growth and budget.