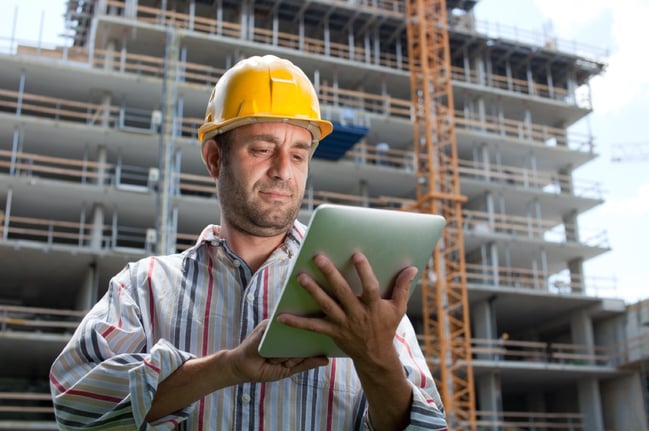 Construction companies are notorious for being slow to adopt changing technologies. This is particularly true for cloud solutions. However, there are few industries that are as well-suited for the cloud as construction. With so many roles in construction organizations working offsite, access to data, the ability to manage projects from anywhere and the ability to collaborate and deliver estimates on the road can be severely handicapped if the data is not immediately available. In order to stay competitive and grow in a changing climate – the cloud is quickly becoming a no-brainer in the construction industry.
Mobility and Data Access.
Up to 80% of construction company employees work on the go at any given time. Prior to cloud services, project managers would have to manually take down notes for project updates and input into their system. This increased the amount of time they were spending doing menial data entry work and caused a disjointed flow of information throughout the organization. With data stored in the cloud, project data and company files are available from mobile devices and laptops for any user with an internet connection.
Reliability and Security.
In the past construction companies have written off the cloud as not secure enough. The reality is that the companies that house cloud servers invest hundreds of thousands and sometimes millions to protect the security of these servers. Compare this to your office network and this argument dies down quick.
Nationwide Capabilities.
If I told you that your company could go national with the help of a cloud migration, how much more likely would you be to adopt a cloud strategy? When construction companies attempt to go national, they often run into bandwidth issues and server failures as their server and connection assists the entire organization nationwide. Switching to the cloud eliminates the reliance on main office connectivity and eliminates the concern related to power outages and localized or regional disasters. Instead, users can access data from anywhere with an internet connection.
The cloud opens up a world of possibilities for businesses across a number of industries, but construction companies, in particular are well situated to experience increased efficiency, productivity and nationwide growth with cloud solutions.
Still not sure about how the cloud could serve your organization? Consult a professional.