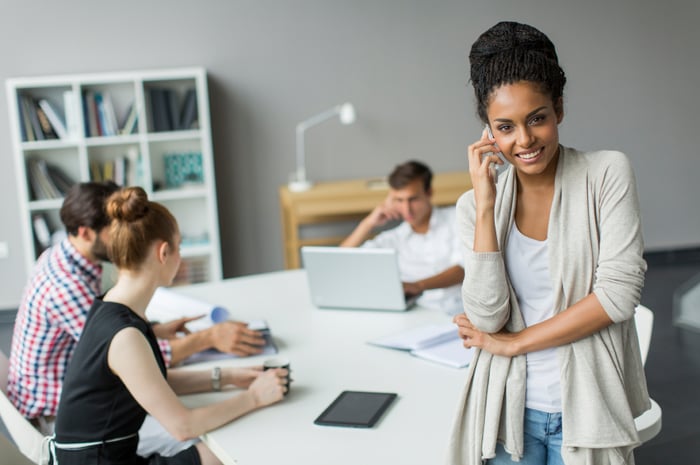 Say what you will about them, Millennials are exceptionally savvy with technology. From the latest tech gadget, smart phone, tablet or software application – they're in the know when it comes to gadgets. They move quickly, appreciate innovation and are all about instant gratification. As such, they can be difficult to manage and impossible to retain. But retaining them is key, as an Experience study says that it will cost you more than $24,000 to replace a Millennial employee. Ouch. Optimizing efficiency and retaining your employees is going to be the key to your success. But how to optimize efficiency in a distracted world where social media reigns? Here are our best tips for how to use technology to boost Millennial efficiency at your organization.
Choose a versatile, modern line of business application.
If you haven't seen one of the hundreds of articles we've done on mobility and versatile software, listen up: the workforce is mobile. 45% of Millennials choose flexibility over pay – so you better make sure that your software can support that. Your employees shouldn't have to remote into an aging server or slow connection to access your documents. Consider a cloud move or choose a Software as a Service (SaaS) that has an application that will allow users to work from anywhere.
Give them a way to manage their workflow. One that's documented.
While Millennials prefer change (their average tenure is only 2 years), they also need continuity. If you don't have documented processes and workflows in place – the learning curve is exponential. But don't just take the time to make documentation – you need to have software that helps them be productive. Whether that's a task management software or project and time tracking software – pick one, stick with it and make sure they're trained on exactly how to work with the software to manage their workflows.
Help them manage their time more wisely – with plugins.
While no one wants to be told what you do – no business owner can ignore the massive distraction that exists on Twitter and Facebook. While blocking the website entirely is a little too Big Brother for most Millennial employees, most would appreciate insight on how to be more productive. The Google Chrome extension "Stay Focusd" allows users to regulate how much time they spend on particular websites (ahem Tumblr, Reddit, Facebook, Twitter) and even block websites entirely. You can also use the "nuclear" option which is not able to be cancelled and will block certain sites on your block list for a certain period of time. (Perfect for the procrastinator with a tight deadline).
Listen.
Sometimes business owners are so overwhelmingly "talk" focused (memos, meetings and calls) that they forget they hired on talented, dynamic staff. Millennials are so plugged in, they often know the next big tech tool before most businesses. Embrace this quality and allow your employees to be beta testers for new productivity applications and tools. Processes are a great thing, but everything can be improved.
According to Time Magazine, 3 out of 4 employees will be Millennials by 2025. That's not as far off as you think. Start making the changes to help your Millennial employees be as efficient as possible and you're far more likely to keep them around in the long term and boost the bottom line in the process.