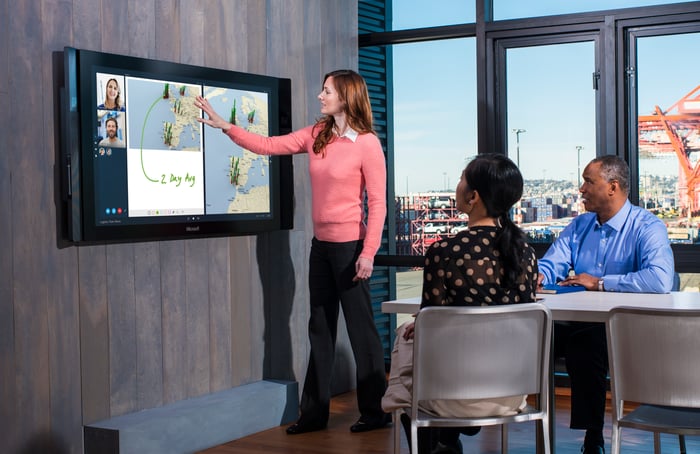 As early technology adopters, we owe it to our clients to explore all of the latest tech options that make doing business easier. For the longest time we've battled conference room technology. With plug-in requirements, incompatible devices and archaic interfaces – we've been looking for something really nice to help revolutionize the standard conference room. Apple TV has been one of the best conference room tools – but with tablet technology being what it is, we all know that we were due for something better. Enter Microsoft's Surface Hub. An 84" 4k touchscreen for office collaboration. We've broken down some of the pros and cons and you'll have our own opinions on it too.
Designed to eliminate bumbly sales meetings.
You've been there. You're meeting with the perfect prospect and you can't quite get your technology to work properly. You all huddle around a tiny screen to watch your presentation. Or perhaps you've entered the conference room to present to your team on a project and discovered – you forgot to charge your laptop. Or weird video chats that you can't quite get working properly? The Surface Hub is designed to change that – think of it as a whiteboard and a tablet combined. The ultimate smartboard.
Ultimate Collaboration.
If the Surface Hub works like the above video mentions, it's a complete game changer for the mobile workforce. Meetings become more collaborative, allowing the use of a pen to draw with digital ink directly on the Hub, video conference in co-workers and push around and interact with data, as well as share your screen with your colleagues. From what we've seen the user interface looks great, but we also know that Microsoft has had their share of UI nightmares.(Windows 8, anyone?)
All the apps you already know…plus.
Hub will work with Microsoft Office, Skype and other business applications – which are automatically built into it. They've also opened up to allow external developers to create applications for even more productivity (something that Microsoft was criticized for not doing as much in recent years).
Some really great specs.
In addition to the 4k display, they've powered this thing up with some great technology, bragging that it has "virtually no lag" as the display refreshes faster than the human eye can see. With i5 and i7 processors, everything will run smoothly. 1080p cameras top it off with sensors to follow you around the room. (Creepy, yet awesome.)
Not exactly original, but entirely integrated.
If you know Microsoft at all, you know that they rarely introduce entirely new technologies, but their reach and brand ensure that anything they introduce is widely adopted. That said, the Surface Hub isn't exactly an original idea. Smart's Smart Room System with Meeting Pro Software offers all of the same features, including audio, video, 4k resolution touch screen, gestures, smart ink and multi-display. What it lacks is the seamless integration that Microsoft can build – and the price tag runs around $10,000.
So what are our thoughts on it? A few quotes from the executive team:
"This technology could be very important for companies that have explored this type of functionality in the past, when no suitable solutions in the market at the time. Microsoft has combined the most important elements of its Office and collaboration tools into one central system. We will begin exploring this solution immediately for implementation with our clients."
If you've been struggling to find an innovative solution for your conference room woes, this might just be what you're looking for. Only time and price will tell if it will work for your business.