2015 has been the year of the cloud. With Google Drive, Dropbox, Box, and OneDrive all serving as excellent cloud options for businesses – we've been wondering if any would rise to the top. While different businesses choose each cloud storage service for varied reasons based on their unique needs, no single service has really jumped out as the leader. Now all that could change. Yesterday Microsoft revealed their new Office 2016 and some of the features may have businesses jumping ship from their cloud provider to OneDrive.

Here are the highlights: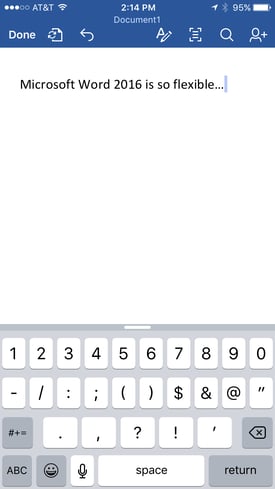 Microsoft has made the cloud their main focus.
Microsoft has made sure that all of your work is accessible across devices by finally refining Office 2016 to optimize cross-device editing. This means that if you're at your desktop editing a document and want to continue doing so, you can simply access it on your phone, tablet or other device by logging in with your username and password.
Amazing new live co-authoring features in Word.
For the most part, the interface in each Office application has remained the same, but by far the biggest change is the live-editing feature that they've added to Word. In the past, most document collaboration in Word occurred via the "Review" toolbar, which allowed comment additions and change tracking among collaborators. Now that Office is fully cloud-enabled, Microsoft has succeeded in bridging the gap – bringing together fully featured document collaboration and making it live. This is something that Google tried and failed to do, but in making robust interface of Word available in the cloud, Microsoft nailed it with Word 2016.
E-mailing Documents
Something else that's pretty great is that OneDrive documents can be accessed directly in Microsoft's Outlook App. You can seamlessly send documents that you've recently interacted with through the Outlook app without having to tinker with tracking down the file in OneDrive. Rather than including the document as an attachment, it includes a link.
Businesses have never had a secure way to exchange documents. If you attach a document to e-mail, the best you can do is add a disclaimer about confidential information – but you lose control over the security of that document. Microsoft's Word 2016 gives businesses back that control. Live collaboration and editing means flexibility for workers on the go. And being able to access your documents from any device along the way? Game changer. Businesses need this. They use Word on a daily basis for creating professional documents and this is what will bring everything together. But will it be enough to finally move businesses to OneDrive? Only time will tell.